An Open Letter to Messy Makeup Bags from Beauty Lovers Everywhere
Posted on January 03 2018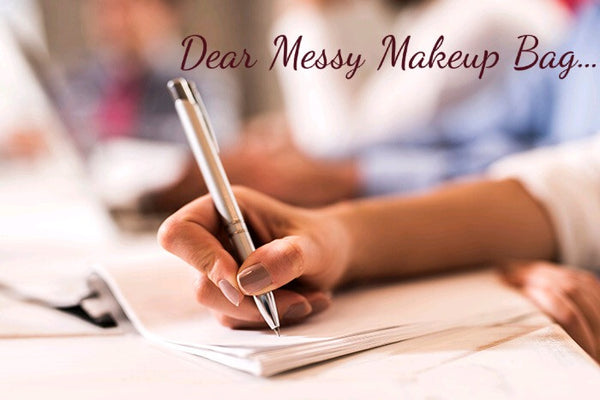 Dear Messy Makeup Bag,
We had a good run.  You really seemed to have it together, yet somehow you were nothing more than a hot mess.  You had so much promise.  We were going places.  No, really - we were going places until your zipper broke and you insisted on spilling your contents everywhere.  All. The. TIME.  I'd still like to know where my favorite lipstick went, but I guess that was meant to be one of life's great riddles.
I'll never forget all the times you doubled as a clutch.  A wallet.  A trash bin.  I was going to clean you out, I promise.  (Really, you were an enabler if you ask me.)  I was never quite sure why you couldn't just fit nicely in my purse, but whatever.
The truth is, I won't miss you much.  You weighed me down.  You held me back.  You over-stayed your welcome in my drawers.  And remember that vacation we took last summer?  You were supposed to keep my makeup safe up there in the overhead bin.  Thanks to you, I spent a week in Paris with hot pink glitter all over every article of clothing I packed.  Not cool.
My relationship with you was one I tried to make work.  Different sizes.  Cute prints.  Sure we were on-again, off-again, and who could forget my train case phase.  Looking back, I should have let you go a long time ago, but the allure of a free makeup bag with purchase always kept me coming back for more.
Messy makeup bag, please don't take it personally.  We just want different things.  I want to streamline, simplify, and organize my makeup.  And well, you just want to get bigger, deeper and messier.  Please don't beg me to take you back.  There's a new beauty tool in my life now -- the Z Palette, and we're very happy together.  I can find things now.  Things I forgot I ever bought.  Things I thought were lost forever.  Z Palette even makes room for more makeup, something you could never do.  (All those times you thought there was more room on the vanity, I was faking it, you should have seen what was hiding under the sink.)  So I guess this is goodbye.
Love Always, (but not really)
PS:  I've blocked you on Facebook and Instagram.