Throw a De-Potting (think Tupperware) Party!
Posted on January 31 2018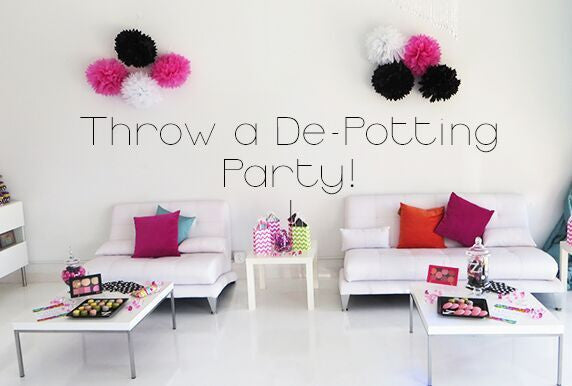 If you think the world could use more human interaction and people need to get together more, or if you love any excuse to throw a party, then throw a de-potting party.  Remember Tupperware Parties?  (If you're in my age range you do; if not, see pic below.)  The girls got together at the host's house, had a good time, talked about this and that, all while pushing Tupperware.  
At a de-potting party, you can still talk about anything and everything, now while you're de-potting makeup.  We throw them a few times a year, and we always round up a cool group of people.  Listen, de-potting can be fun, and therapeutic.  And it's something you can do while doing other things.  A de-potting party makes for a great birthday, housewarming, girls' night in, you get the picture.  It's a chance to catch up and relax with friends while getting creative and letting loose for the day.  
Tell your guests to bring their makeup (clutter) and their beautiful faces.  Supply them with everything else, and trust me your shopping list won't be long at all, and you probably already have most of what you'll need, which I'll get to later.  Tell them to bring along any makeup "doubles" or "regrets" that never made it into their 'get ready routine', and everything is up for grabs!  Your guests will love going home with a new eye shadow...or two!
I like to keep the space minimal to inspire us to declutter and simplify.  After all, that's what de-potting is all about, right?
Get all of your supplies ready before hand: Z Potter, metal spatulas, rubbing alcohol, metal stickers, and empty pans, markers for labeling shade names, and of course, plenty of Z Palettes!  It always starts out so perfectly put together, but don't be fooled, once the creativity starts flowing (and the drinks), it's another story!
The de-potting process can be so much fun, with the music going in the background, the time always just flies by.  Before you realize it, you've de-potted tons of makeup and there's always a big pile of plastic packaging left behind to show for it. Divide it up according to certain brand's recycling programs. Who doesn't love turning in empty packaging for a free lip gloss?!
There are almost always one or two people in the group that are new to de-potting. Check out the looks on their faces when they see how easy de-potting is – it's a great moment.  Whenever someone says they can't de-pot their makeup, show them!
Of course, a party isn't a party without great food and good music.  It's best to stick with small bites and finger foods that you and your guests can easily pass around and snack on while you work.  I don't think anyone can resist cake, ice cream.  Have as much fun with the playlist as you want!  I say if we dance or sing along to it, then that's what we do!
The day is always over way too quickly.  It's so nice to go home with freshly de-potted makeup, organized, stream-lined and ready to use.  Send your guests home with a little something to remember the day – a
Mini
or a
Small Z Palette
is the perfect party favor, and everyone can bring it with them to the next de-potting party!  If you happen to be celebrating something that day, then
create a custom Z Palette
to make it extra special.
A de-potting party is easier than you think and the perfect activity for beauty lovers.  Here's the benefit: You get to see people you haven't seen in a while, you get to do things you haven't done in a while.  And YOU are responsible for bringing everyone together.  Don't wait until the next birthday party or wedding or baby shower to tell each other how you seriously need to get together more, only to see each other at the next Christmas Party or Retirement Party.  Get together.