Are You Festival-Ready?
Posted on April 11 2018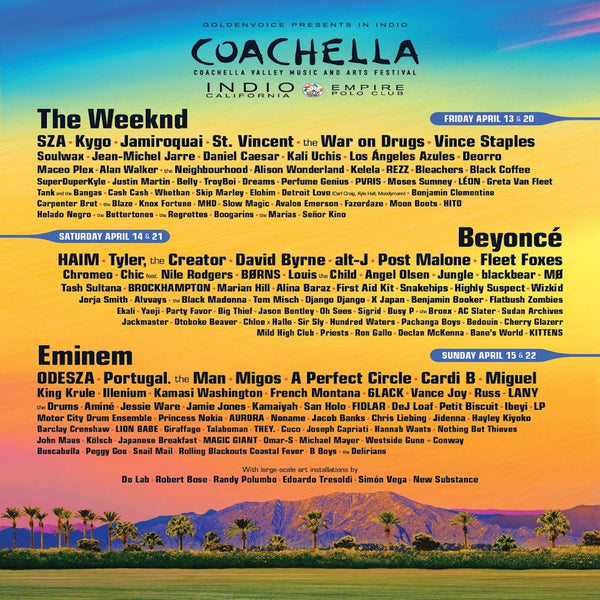 If you haven't heard about Coachella then you have been living under a rock! Coachella is one of the hottest music festivals, it happens every year. April is when the weather starts warming up again in Los Angeles, and getting prepared for all of the music festivals is a must. There is so much going on in LA in April and May that it is easy to miss something, but Coachella is one of the highlights of the year. Why, do you ask? Because there is so much undiscovered talent pushing their projects and you get to "discover" them first. And already established artists are usually headlining and lingering at the festival and after parties to hear what's new too. The chances of you running into an artist you like are about 50/50, unless you make the right friends, then your chances go up exponentially. 
Art and music are inclusive and can touch anyone from any walk of life. Makeup is art too, and everyone can enjoy a beautifully painted face. For festivals, I like to go for the more natural tones with makeup, with a pop of color of course! It's a great time to get creative and experiment with bright colors also. Metallic tattoos and adhesive  face stickers are so fun for festivals. The metallic tattoos are so cool, they look like jewelry and they don't fall off like jewelry does, so no need to worry about grandma's ring getting lost.
I try to do something different so that I stick out from the large crowd and I definitely recommend the adhesive face gems for that! I must warn you, the heat may melt them off so make sure to get the good ones that stick well if you decide to go that route. I went to a pool party last year and showed up to my friends house with the metallic tattoos and she made me go all the way home to get the rest of them so she could wear some too. If you are a good friend you will have extra; if you are not, then I don't blame you! If you want to make sure to keep your adhesive rhinestones, don't forget a small Z Palette to hold them in! It is a safe place to keep your small stuff like tattoos and rhinestones – it comes in handy, I promise.
Z