Golden Globe Trotting
Posted on January 09 2018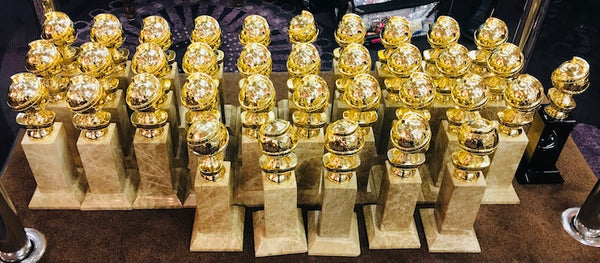 Getting into the Golden Globes was easier than getting out of my house that morning.  I mean I couldn't get out.  Even with both kids strapped in for breakfast.  
My husband had to be at an appointment earlier than he thought, so he left.  My mom hadn't arrived yet -- she was supposed to be watching the kids, she was running late -- and my ride was waiting outside.  When my mom did arrive, she told me my dad was sick and he wanted her back as soon as possible.  We end it with "We'll figure it out.", and I headed for the door.
That's when my oldest son always wants a kiss.  
I go back.  And I kiss them both, and hug, and do high-five, and fist bump.  When I walk out the door, I stutter-step -- I can't believe I made it this far -- but I don't break stride or look back.  I keep it movin'.
We got to the venue.  Everyone was running through rehearsal; we found our location, set up our stuff, got some coffee, found some food, and waited...
And while we waited, we literally went through my coworker's kit, spread everything all over the floor, and started condensing it.  Since it's quiet in the beginning before everyone comes, there was some time to help her organize her kit.  We figured that she didn't need all these duplicates and we condensed ten things into three that she really needed.  
And then she had to work on somebody so we cut it short.  It's a To Be Continued.  She wants to fit her stuff into a Zuca, or make her suitcase lighter.  That's the ultimate goal -- a lighter kit.
Little by little, more and more people started coming in.  At times you go up to them, tell them they can "use a little de-shine", "let me give you a touch up", or they come right to you, "lets take a look".  We had a lot of takers this year.  They're about to be on camera, they want to look good.
It's a fun people-watching session after that.  You see celebrities congratulating each other on their work, talking with one another, hobnobbing.  And then Oprah started to talk, and you could hear a pin drop.  The whole room went quiet.  Then when she finished, it all got loud again.  It was funny.  She has that presence.  Pretty much everyone I saw was wearing black for the cause.  And I had fun, I got to touch up a lot of cool women.  And everyone was very appreciative of us being there to help them out.
And when I got home, my two boys were sound asleep, and my mom and my husband were talking in the kitchen.  That never (rarely) happens.  But it was a starry night.