Check Out These Clever Uses For Your Z Palettes!
Posted on February 22 2018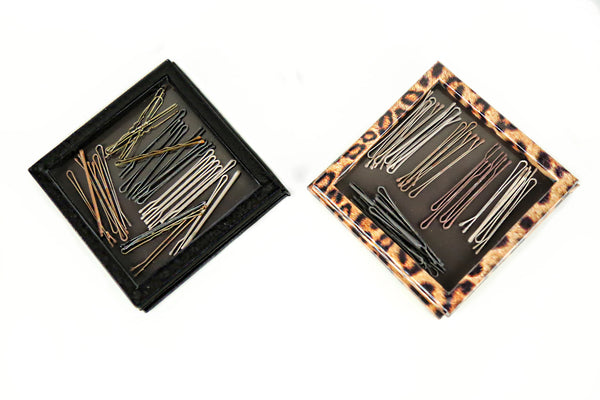 If you're anything like me, then you love a product that does double duty.  I'm constantly searching for ways to revamp old things and make them work for me in new and different ways, and it's no different with the Z Palette.  Of course every girl needs a custom makeup palette, but keep reading to see some other, very clever uses of the Z Palette.  In fact, post a picture on Instagram showing us how you're using your Z Palette and tag us - we're giving away a Z Palette to the most clever and innovative use!
1.  Bobby Pins: These little suckers seem to be all over the place -- the bathroom floor, the bottom of your purse -- but why is it that whenever you're in desperate need of a bobby pin, they're nowhere to be found?  The magnetic tray in the Z Palette makes it the perfect little corral for bobby pins and even hair ties (most of them have a small metal band).   This is perfect for hair stylists because you can separate and organize hair pins by color, making it easier than ever to find what you need!  I like to keep mine in the Medium Z Palette. It looks great on the bathroom counter and when I'm traveling, or just having a bad hair day, I can throw it in my bag and go!  Also the Medium Z Palette has extra depth, so you can also put your duck-billed hair clips and baked products inside.
2. Jewelry: If you travel a lot, or are simply a girl on the go, try using your Z Palette as a jewelry box. The magnetic lid snaps firmly shut, so I know I won't end up with a tangled pile of jewelry at the bottom of my bag, and the clear window lets me see exactly what I have.  Ah, brilliant!
3. Mixing Palette: Recently, a fellow makeup artist friend of mine was in a bind on set and needed to mix foundations. She found the magnetic tray in her Z Palette to be the perfect surface for no-mess mixing (just be sure to clean the palette with an alcohol pad first).
4. Make Up Brushes: The Dome Z Palette is the perfect home for your make up brushes.  Whether you are a makeup artist and need your brushes in one place that makes them easy to carry, or you simply want to de-clutter and organize your vanitiy. You'll never wonder where your favorite smudge brush disappeared to.
5. Sewing Kit: Every stylist and fashionista's best friend! I like to keep pre-threaded needles, safety pins and small scissors in the Z Palette. The magnetic surface keeps everything neatly in place - wardrobe malfunctions have met their match!
The possibilies are endless, and I encourage you to keep finding new ways to use your Z Palette!