In the Absence of Love...WORK!
Posted on February 07 2018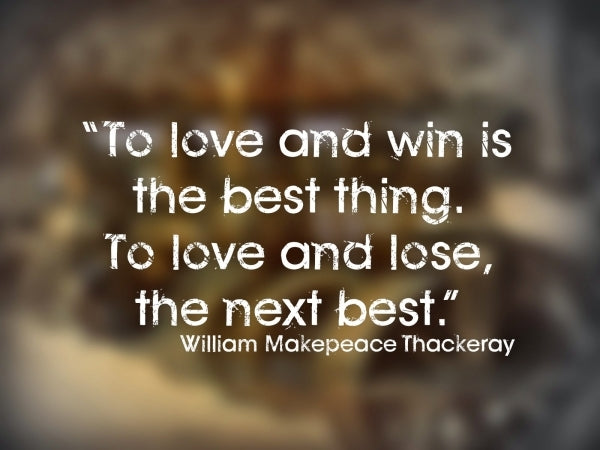 February is a great time for love in some instances, and a challenging time in others.  If you're in love, you feel all kinds of sensations all over your body, and nothing feels better.  If you're (freshly) out of love, nothing feels (or seems to feel) worse, especially in February when "love is in the air" and it seems like everybody's kissing and hugging.  Lost love can put your flat on your a$#, especially that gut-wrenching, can't eat, can't sleep, can't think of anything else, can't talk to anyone, every song reminds you of the person lost love.  You just don't want to do anything.
But forget thaaaat!  Pull yourself together.  Get your environment right.  Set yourself up for success.  Pick up your place, organize your makeup, your cabinets and drawers.  Do the things that will make you feel good.  I'm not talking about busy work because that's another thing; I'm talking about setting up your environment so you can think AHEAD and not sweat the small stuff.  Once you get these things in order, you will attract in the right energy, and you will be able to see clearly.
And anyway, statistics show a good percentage of couples get back together after a breakup; that basically means nobody's going anywhere.  So while you've got that time off (away), take advantage of it.  Don't sulk, and do not worry over lost love.  Remember the good times.  And set up for more good times, with or without the person.  You should be your own best company.  And to do that, you've got to work on yourself.   
Anytime we go through some struggle, that's when we get thoughtful, humble, gain perspective, and take a look at big pictures.  If you're going through a breakup or lost love, that's the time to get it together.  Step up the makeup game (that doesn't necessarily mean more makeup; it does mean accentuating what's beautiful about YOU), and step up the organization game.  Opportunity passes he/she who is ill-prepared.  We've got plenty of looks to present YOU, reinvent YOU, accent YOU.  See one below, and more in the coming days.  We're using our line of eyeshadows, check them out here.  Take time for your appearance and don't let things slip.
It's fun to put on makeup and wear it, just because.  Try going to the office with a great face on for no reason other than it makes you feel good.  See how many "Gotta Hot Date Tonight?" and "What's the Occassion" type comments you get.  They won't believe when you tell them, "Just Because".  You just did what's called  A Star Turn; that's going to pay dividends, to your wallet AND to your confidence.
Before you take action, get organized, so you don't make the same mistakes, so you evolve, so you become a better person.  And so you can see your makeup and use it.
Whenever I get the call from a friend that's going through a breakup, they always mention that project that they've been wanting to start or that career that they've been wanting to get into.  Or what about when they tell you they want to go back to school to further their education.  Tell them to get their kit together, put on a happy face, and get started already!!